F88 to cooperate with Thai bank
Lender's strategic cooperation with KBank expected to boost financial inclusion in Vietnam.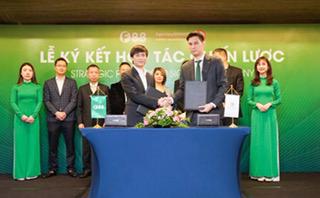 The F88 Business Joint Stock Company (F88) signed a strategic cooperation partnership with KASIKORNBANK Public Company Limited, Ho Chi Minh City Branch (KBank), on February 21.
The strategic cooperation will boost financial inclusion to a broader segment of customers, including individuals and micro enterprises, providing access to credit at preferential interest rates. This also aligns with the direction of the Vietnamese Government and the State Bank of Vietnam (SBV) in advancing financial inclusion by driving the adoption of digital financial services.
Mr. Phung Anh Tuan, Chairman of the Board of Directors and General Director of F88, said the company's vision is to become the leading micro-finance provider in Vietnam. Vietnam's market remains in its infancy, but will grow explosively over the next few years. "By utilizing KBank's expertise in deploying comprehensive financial products in Thailand, we strongly believe that F88 will make a breakthrough in Vietnam's financial market through this collaboration," he said.
By leveraging the strengths and expertise of both parties, both sides will develop products to deliver convenient and fast services to meet customer needs, providing the best financial solutions and experiences with quality services on both online and offline channels.
KBank marked a key milestone in its journey in opening its first branch in Vietnam in 2021, and aims to offer fully-fledged digital product solutions to all customer segments. It will leverage its financial expertise and experience from 77 years in Thailand and capitalize on its technological capabilities to satisfy customers.
"We strongly believe that the partnership with F88, the leading micro-finance player in the market, will be a significant step for KBank to enhance additional capabilities in fulfilling our mission to broaden access to financial services to the underserved population in Vietnam," said Mr. Chatuporn Boozaya-Angool, General Director of KBank, Ho Chi Minh City Branch.
With a network of 830 branches nationwide and an expectation of growing to more than 1,000 in 2023, F88 is the leading provider of secured lending and other utility financial services in the market and has a deep understanding of the underbanked population and micro enterprises. For the last three consecutive years, F88 has achieved average growth in loan balance and total revenue of over 200 per cent each year.