IFC to cooperate with local agri player
Cooperation expected to help BaF further its development in the agriculture sector.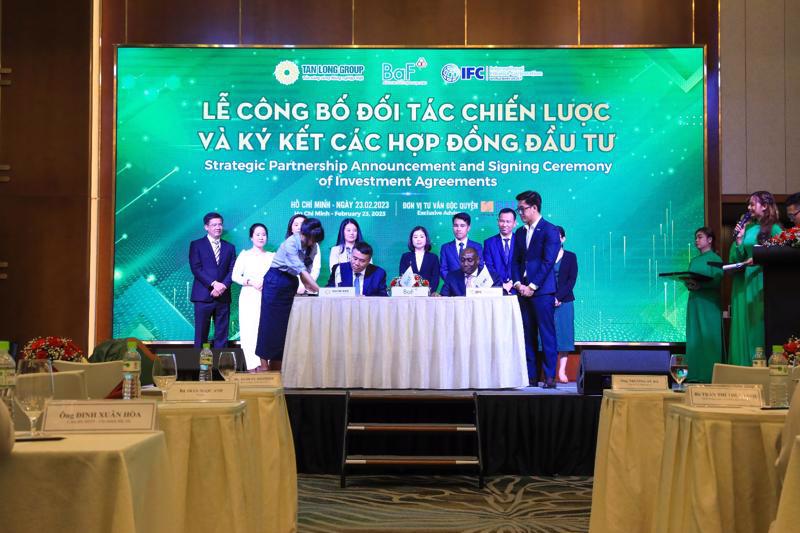 A strategic partnership announcement and signing ceremony for an investment agreement between the International Finance Corporation (IFC) and the BaF Viet Nam Agriculture JSC (BaF) took place at the Vinpearl Landmark 81 Hotel in Ho Chi Minh City on February 23, attended by leaders from the parties involved.
The IFC will provide maximum funding of $39 million to BaF, to support growth in modern closed livestock farms and the development of animal feed factories and clean slaughterhouses.
After a period of appraisal and the implementation of related procedures, BaF passed the strict standards set by the IFC in terms of financial standards. Revenue and profit from the livestock sector have recorded strong growth in recent years, with financial indicators reflecting good health.
According to Ms. Bui Huong Giang, General Director of BaF, the cooperation with the IFC is aimed at supporting the growth of livestock, feed production, and food processing facilities that have been and will be built by BaF in Vietnam.
Under the advice and support of the IFC, BaF will gradually transform from individual farming to group farming, ensuring compliance with requirements on biosecurity, animal welfare, the efficient use of resources, environmental protection, natural biodiversity, and food safety. "Other activities throughout the closed livestock chain such as bran production, transportation, slaughter, and distribution are also guaranteed to comply with the IFC's highest global standards," Ms. Giang said.
Mr. Samuel Dzotefe, Senior Manager of Manufacturing, Agribusiness, and Services for Asia at the IFC, said that by supporting companies like BaF, the IFC is driving local private businesses in the agribusiness supply chain to grow more efficiently and sustainably. This will help promote competition and improve standards and on-farm practices, helping the food industry continue to modernize and adopt international best practices.
The companionship of the IFC also promises to support BaF to further improve the application of environmental and social standards in business activities towards sustainable development through commitments to ensure a safe working environment and conditions for employees and will improve animal welfare.