Investment potential remains in Vietnam - Czech Republic ties
Potential for investment between the two countries still largely untapped.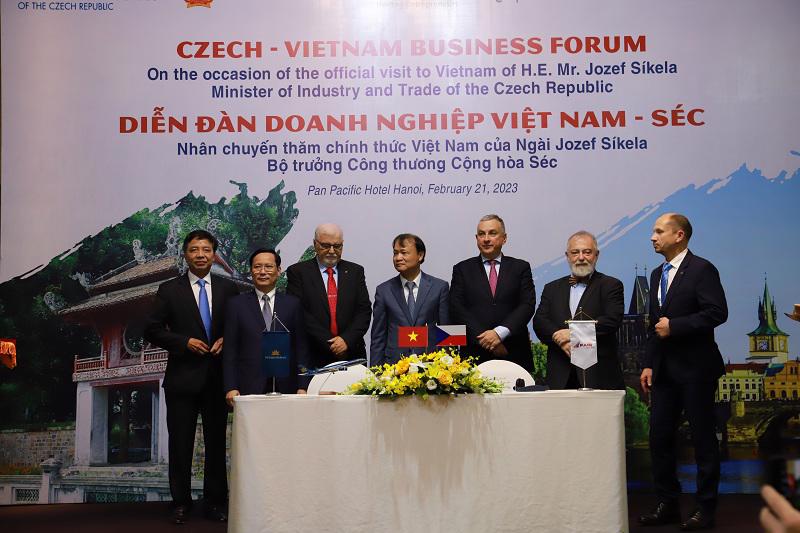 Czech businesses hope to access the Vietnamese market in the fields of mining, energy, and financial services, Czech Minister of Industry and Trade Jozef Síkela told the Czech - Vietnam Business Forum held on February 21 in Hanoi during his official visit to Vietnam.
Mr. Síkela said Vietnam is an important trade partner of the Czech Republic within ASEAN. "Bilateral trade reached a record $828 million last year and is expected to continue to grow," he added.
Vietnam is the fastest-growing market in Asia, with growth of over 7 per cent per year and a population of 100 million people. Investment opportunities and economic cooperation reach from the north, in places like Sapa, down south to the Mekong Delta.
Mr. Jaroslav Hanák, President of the Confederation of Industry in Vietnam and Malaysia, told the Forum that Czech companies have a great deal to offer. "They are flexible, innovative, and have rich experience in international markets," he said. "The visiting business delegation focuses on sectors such as engineering, energy, civil aviation, and automotive, and services and innovative industries such as pharmaceuticals and ICT. We have innovative, stable, and future-looking companies with interesting portfolios and offerings that could be of interest and value to our business partners in Vietnam."
Data from the Ministry of Industry and Trade (MoIT) shows that exports from Vietnam to the Czech Republic reached more than $668 million in 2022, up 14.58 per cent compared to 2021, while imports from the Czech Republic to Vietnam totaled $160 million, up 5.2 per cent. As of the end of May 2022, the Czech Republic had 41 valid direct investment projects in Vietnam with total registered capital of $92.39 million, ranking it 49th out of 139 countries and territories with direct investment.
Mr. Pham Tan Cong, Chairman of the Vietnam Chamber of Commerce and Industry (VCCI), said the Czech Republic has attached great importance to its relationship with Vietnam. It has put Vietnam on a list of 12 key market countries with prioritized trade; the only country in Southeast Asia to be included.
Deputy Minister of Industry and Trade Do Thang Hai said Vietnam possesses advantages in being a member of the ASEAN Economic Community, which has over 600 million people and is located in an area assessed as dynamic and seeing the fastest economic growth in the world.
Vietnam has fully participated in global economic institutions, expanded market for goods and services, and made international investments. It has signed 15 new-generation free trade agreements (FTAs) with 55 countries and territories and is negotiating two others.
Mr. Hai affirmed that the potential for cooperation between the two countries remains significant but has not been adequately promoted. "I call on Czech businesses to pay more attention to the Vietnamese market - one of the most dynamic in Asia," he said. "Meanwhile, MoIT and other ministries and branches are committed to supporting and creating conditions to promote business, trade, and investment relations with Czech enterprises in accordance with the Vietnamese Government's policy of opening up and actively integrating into the international economy."
The Vietnam-Czech Business Forum also witnessed the signing of cooperation deals between a number of Vietnamese enterprises and partners from the Czech Republic in the field of flight training.