Local NFT platform raises $4mln in pre-Series A funding
Aura Network kicks off 2023 by securing $4 million in a fundraising round led by Hashed and Coin98.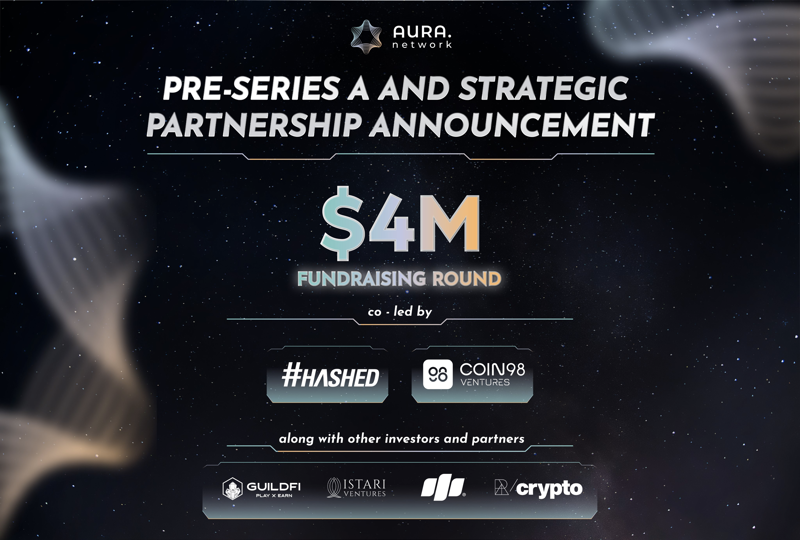 Vietnamese non-fungible token (NFT) platform Aura Network has closed its pre-Series A fundraising round with $4 million, co-led by Hashed and Coin98 Ventures.
Following the announcement of a strategic advisory partnership with Republic Crypto, this is the next committed milestone ahead of its Mainnet launch in the first quarter of this year, according to an announcement it released on February 15.
In this fundraising round, Aura Network engaged some notable blockchain projects, including GuildFi, Istari Ventures, and Republic Crypto, as well as angel investors. Strategic relationships with these investors and partners will see the provision of advice on operations, product and business development, marketing efforts, and more.
According to the announcement, the funds are earmarked for Aura Network's ecosystem expansion, including increasing the number of global Web3 projects and products built within the ecosystem. Moving towards the Mainnet launch, Aura Network's development team is currently working on building several new products. The schedule to release these products will be announced shortly.
Aura Network is an ecosystem built to accelerate global NFT adoption. It focuses on building the Internet of NFTs and bringing NFT and web3 to the masses. With strong support from angel investors and partners, Aura Network will fuel the mass adoption of NFTs and become one of the leading Web3 builders.
The funding is by far one of the most significant by Aura Network, with investment from Hashed, South Korea's highest-profile crypto investment firm. After five years of establishment, Hashed's investment portfolio includes over 80 projects across multiple categories, such as NFT brands like Axie Infinity and The Sandbox, blockchain networks like Cosmos and Klaytn, and DeFi protocols like MakerDAO.
Coin98 Ventures is the venture capital arm of Coin98 Finance, a Web3 Vietnam-based building hub. It seeks to invest in founders with disruptive ideas and innovative approaches across the Web3 stack, from layer 1 protocols and infrastructure to consumer-facing applications.