NA Chairman meets New Zealand Governor-General
Two agree that visit will contribute to deepening strategic partnership and boost potential for further cooperation.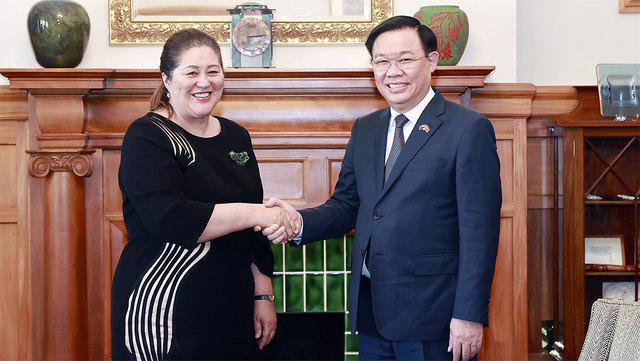 National Assembly (NA) Chairman Vuong Dinh Hue met with the Governor-General of New Zealand, Dame Cindy Kiro, in Wellington on December 5 as a part of his official visit to the country from December 3-7 at the invitation of Speaker of the House of Representatives Adrian Rurawhe.
During the meeting, the Vietnamese leader underlined the significance of his visit, the first by a high-ranking leader from Vietnam to New Zealand since the 13th National Congress of the Communist Party of Vietnam was held and the Covid-19 pandemic brought under control. He noted that Vietnam was the first strategic partner of New Zealand in the Asia-Pacific region and hopes to further promote multi-faceted relations.
The two leaders agreed that the official visit will contribute to deepening the strategic partnership between the two countries.
NA Chairman Hue said he hopes Vietnam and New Zealand will promote collaboration through the Party, government, legislature, and people-to-people exchanges.
Governor-General Kiro expressed her deep admiration for the land, culture, and people of Vietnam and underlined that the relationship has strategic significance for New Zealand, adding that the two sides should further bolster the partnership amid a changing world for the interest of both peoples as well as for peace, stability, and prosperity in Asia-Pacific.
The two sides agreed that the strategic partnership between Vietnam and New Zealand has been growing, even during the pandemic, with regular high-level meetings, contributing to reinforcing political trust and motivating bilateral cooperation in all fields, adding that two-way trade has reached $1.3 million as a result and is heading to the target of $2 billion by 2024. They also agreed to further promote cooperation in the fields of agriculture, labor, education, and people-to-people exchanges.
NA Chairman Hue told Governor-General Kiro that during the visit he will witness an exchange of an agreement on the importation of New Zealand strawberries and pumpkins to Vietnam, and that during the recent visit to Vietnam by Prime Minster Jacinda Ardern, New Zealand agreed to import pomelos and lemons from Vietnam.
On the same day, NA Chairman Hue attended the Vietnam-New Zealand Economic Cooperation Forum in Wellington.
Addressing the event, he noted that bilateral economic cooperation between the two countries has ample room to flourish.
The two sides are working towards $2 billion in annual bilateral trade, but this target remains modest compared to their economic potential, and investment in each other's countries is still low, the Vietnamese leader said, adding that the two countries possess favorable conditions to increase economic ties, as both are members of key new-generation free trade agreements such as the Comprehensive and Progressive Agreement for Trans-Pacific Partnership (CPTPP), the Regional Comprehensive Economic Partnership (RCEP), and the ASEAN-Australia-New Zealand Free Trade Area.