Smart cities the goal for all of Vietnam
Localities around Vietnam have been locked in a race towards smart city development and certain achievements have been posted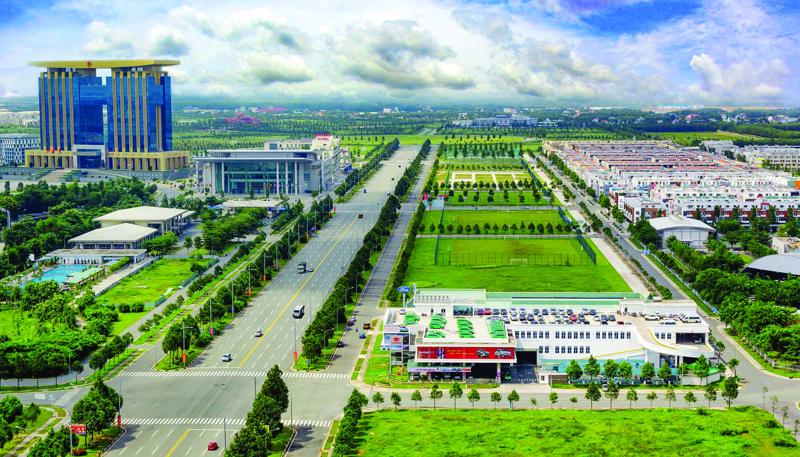 Southern Binh Duong province was again on a list of 21 localities worldwide with outstanding smart city development strategies (Smart21) this year, which was unveiled in February by the Intelligent Community Forum (ICF). This was the third year in a row the province has been among the Smart21 and it was the first Vietnamese locality to be so listed. Meanwhile, central Da Nang city was the only locality to be honored with a Vietnam Smart City Award 2020, organized for the first time by the Vietnam Association for Software and IT Services (VINASA).
There has been a global push for smarter and better solutions for cities and urban areas, including in Vietnam. Under a project to develop smart and sustainable cities during the 2018-2025 period and vision to 2030 approved by the Prime Minister, Vietnam's major cities and provinces have been ramping up efforts with new action plans to realize their smart city dreams.
Primary focus
Smart city development in Vietnam is still in its very early stages, marked by pilots and testing on a small scale, according to Mr. Doan Van Hien, Vice President of ABB Vietnam. A number of cities and provinces have found success in implementing e-government, with a focus on building a public administrative center and online public services to facilitate smart city development, such as Da Nang, Binh Duong, Ho Chi Minh City, and others.
Dr. Ngo Viet Nam Son, a planning and architecture specialist, said most important cities in Vietnam have already placed smart city development among their important future goals, in order to improve local people's lives and improve urban management. Ho Chi Minh City has planned an overall implementation roadmap for smart city development in three phases, focusing on nine priority areas for development, including administrative reform associated with building e-government; traffic; anti-flooding; environment; healthcare, community health services, and food safety; social security and safety; and urban refurbishment.
Similarly, Hanoi has, since 2018, planned to build a smart city in three phases. Phase 1 (2018-2020) basically formed the core components of a smart city, such as infrastructure platforms, databases, e-government, and smart systems in essential areas like education, health, transport, tourism, environment, and security. Phase 2 (2020-2025) will basically complete these smart systems, attract people to management, and form a digital economy, while Phase 3 (after 2025) will develop a smart city at a high level, characterized by a knowledge economy.
Meanwhile, Da Nang aims to become an ecological, modern, livable city and by 2030 complete the construction of a smart city that is synchronously connected with smart city networks in the country and the ASEAN region. Its efforts have been recognized by the World WeGO award in 2014, the ASOCIO Smart City Award in 2019, the Vietnam Smart City Award in 2020, and the Smart Digital Infrastructure Award.
Binh Duong has set an orientation for sustainable urban management and development, aiming to become a leading industrial center by 2030 and a smart city in the region by 2045. "Over past years, adopting a different approach, the Binh Duong Smart City project has focused on developing a smart community instead of focusing on developing technological conveniences like elsewhere," a representative from Becamex IDC told VET. "It has continually exceeded targets, especially in international cooperation, foreign investment attraction, and trade surplus. Today, most departments and localities have applied administrative procedures and public services online, creating favorable conditions for businesses and citizens."
Foundation for smart cities
Smart cities should be defined by the needs and expectations of citizens and cover public services, health services, transportation, public safety, water, energy (from generation to distribution), education, roads and lighting, and digital infrastructure. "In order to successfully reach its vision, citizens need to be engaged to truly understand their needs, goals set that are both tangible and transparent, networks of stakeholders and partners with a common vision established, and cooperation promoted within a project ecosystem," Mr. Hien said.
Along with advice from Becamex, Binh Duong has been researching and learning from smart city development strategies worldwide since 2014. With support from experts in Endhov city in the Netherlands, one of the "smartest" cities in the world, it officially approved the Binh Duong smart city development strategy, or Binh Duong Navigator 2016-2021. In the 2021-2025 period, it will continue to focus in-depth on the Binh Duong Smart City project, focusing on the implementation of planning and building smart urban infrastructure to create a dynamic force for growth in the new era.
Accordingly, the province will follow the specific criteria built by the ICF: broadband connection, workforce, innovation, equal access to digital technology, advocacy, and sustainability. From these, departments, institutions, and businesses have conducted research and registered for specific tasks. Projects are evaluated and approved by the provincial smart city executive board, together with the determination of provincial leaders, the consensus of the community, and specific advice from experts. The ICF has adopted such results and strategies to evaluate Binh Duong's smart city development process.
Likewise, Da Nang identifies building a smart city as the next step in e-government, in which information technology is a tool to resolve challenges in modern urban management. "Smart city construction must implement many solutions synchronously with the domestic smart city networks, as Resolution No. 43-NQ/TW from the Politburo on the construction and development of Da Nang city by 2030 and vision to 2045 has defined," Vice Chairman of the Da Nang City People's Committee, Mr. Le Quang Nam, told a meeting with Russian corporation Rostelecom in April on the implementation of advanced digital transformation solutions and cooperation in smart city construction.
In different countries are different ways to define and develop smart cities, according to Dr. Son. "From the view of a planner and architect working in Vietnam and other Pacific Rim countries for more than three decades, I would define a smart city as a city that uses information and communications technology (ICT) and a network of devices connected via the Internet of Things (IoT) as a foundation to develop livable and sustainable cities, with effective urban management, and high urban competitiveness in all aspects," he said.
Lessons for Vietnam
In Vietnam, Dr. Son believes, it is important to develop smart city projects with practical uses and results, concentrating on pressing issues such as transportation, logistics, environmental monitoring and assessment, urban management, and education, among others. The most important challenges in developing smart city projects in Vietnam today are not policies or infrastructural and technological barriers but educating and engaging the community of users, including officials in various multi-disciplinary departments and agencies, investors, businesspeople, and citizens.
Many national and international corporates, he noted, have tried to sell high-tech hardware and software to cities and provinces in Vietnam, implying that buying these would make them "become smart". However, the reality is that plans for organizational reform and for educating and engaging the community of users should be prepared first.