Vietnam & RoK to raise relations to Comprehensive Strategic Partnership
Two aim to take bilateral trade to $100 billion by 2023 and $150 billion by 2030.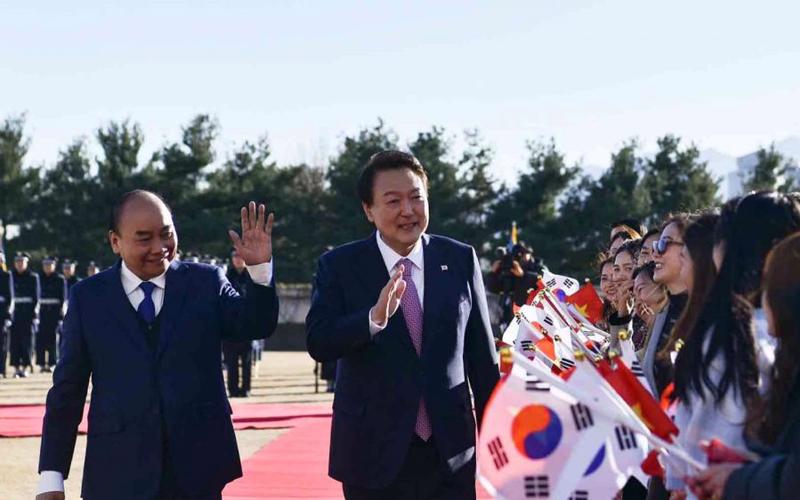 State President Nguyen Xuan Phuc is paying a State visit to the Republic of Korea (RoK) from December 4-6 at the invitation of his counterpart President Yoon Suk Yeol.
During the visit, President Phuc held talks with President Yoon and met with high-ranking RoK leaders.
The two leaders expressed their delight at the rapid and effective development of friendship and cooperation over the past 30 years, especially since the two sides established a Strategic Cooperative Partnership in 2009. They also discussed orientations for the bilateral relationship in the future and exchanged views on regional and international issues of mutual interest.
President Phuc's visit takes place on the occasion of the two countries celebrating the 30th anniversary of diplomatic relations (December 12, 1992 - December 12, 2022).
In a spirit of "looking towards a bright future" between the two countries, President Phuc and President Yoon agreed to upgrade relations to a Comprehensive Strategic Partnership and to strengthen exchanges and cooperation between the two countries.
The Vietnam - RoK joint statement, issued on the occasion, greatly appreciated the practical, strong, and comprehensive bilateral relations after 30 years of inception, particularly since they established a Strategic Cooperative Partnership in 2009. The joint statement affirmed that Vietnam and the RoK are leading partners of each other in all fields, and agreed to further reinforce the relationship to benefit the people of both countries, actively contributing to peace, stability, and prosperity in the region and the world.
The two sides agreed to boost bilateral trade in a balanced manner, maintain their positions as important partners of each other, and strive to raise two-way trade to $100 billion by 2023 and work towards $150 billion by 2030.
Both sides agreed to strengthen investment cooperation, share information and experience in formulating mechanisms, policies, and laws to accelerate investment in startups and innovation, and to increase cooperation in multilateral economic linkage forums and mechanisms.
Vietnam hopes RoK enterprises will expand their investment in electronics, renewable energy, infrastructure development, tourism, and the construction of intensive technology complexes, high-quality industrial-agricultural parks, green industrial parks, and smart cities, and support Vietnamese enterprises to more deeply integrate into global supply chains.
Stating that the development of the banking and financial sectors are significant to the comprehensive development of an economy, the RoK side called on Vietnam to actively support RoK financial organizations to conduct business in Vietnam, through which it would also support expanded investment by RoK enterprises. The Vietnamese side promised to take the matter into consideration.
On the occasion, the two sides inked two government agreements and seven MoUs between certain ministries.