VCCI proposes solutions to support businesses
Ten solutions would help businesses tackle difficulties in 2022.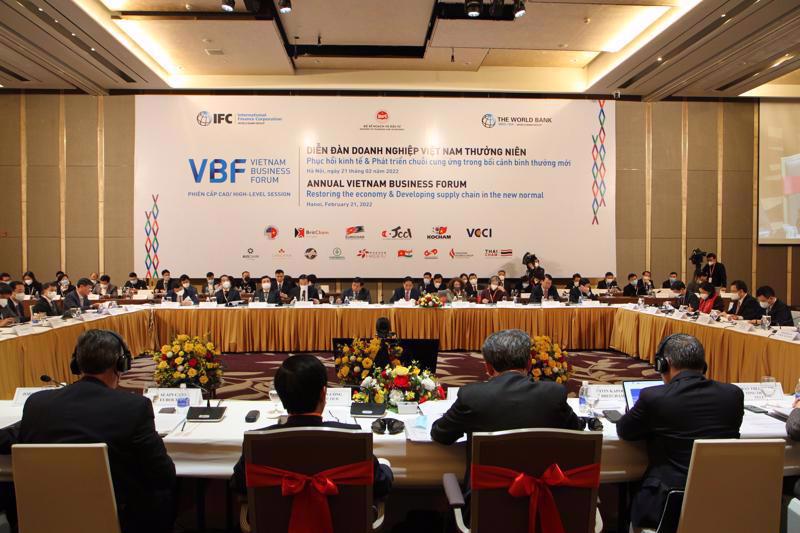 2022 is forecast to again be a challenging year for Vietnam's business community, so it is necessary to adopt fundamental and practical solutions to realize set goals, Ms. Tran Thi Lan Anh, General Secretary of the Vietnam Chamber of Commerce and Industry (VCCI), told the annual Vietnam Business Forum 2021, which opened in Hanoi on February 21.
To reach goals and effectively implement tasks and solutions the government has nominated for 2022, VCCI made ten specific recommendations.
It suggested that ministries and government units facilitate access to information on policies and regulations to support businesses and improve the effectiveness of publicizing policies and regulations. Businesses also need assistance in capital access to restore activities.
Another suggestion was simplifying immigration and travel procedures for workers and experts, especially foreign experts. Authorities also need to improve the effectiveness of training support programs for employees who have been laid off or lost their jobs due to Covid-19, and implement policies to support vocational training and job changes for employees.
Vietnam also needs to accelerate the application of information technology in administrative procedures and put them on online platforms. Improvements are needed in the enforcement efficiency of the government apparatus, Ms. Lan Anh added. Moreover, the country is a signatory to 15 free trade agreements (FTA) and should take advantage of the tariff preferences contained within.
The country must identify the development of the digital economy as a growth engine of the economy, creating a mechanism to promote e-commerce, and strengthen training programs in the application of information technology, digital technology, digital marketing, and so on.
The development of the domestic market is also a concern of VCCI. It suggested the stronger promotion of programs such as "Vietnamese people give priority to using Vietnamese goods" and others.
According to businesses, administrative procedures in certain fields remain troublesome, such as in land, taxation, social insurance, construction, market management, transportation, communications, fire prevention, the environment, and labor. VCCI therefore proposed that the government and ministries review and optimize interdisciplinary administrative procedures and minimize the burden of inspections on enterprises.