VinaCapital: Stock market to overcome global slump and grow strongly
VinaCapital has assessed the strengths of Vietnam's economy amid widespread turbulence.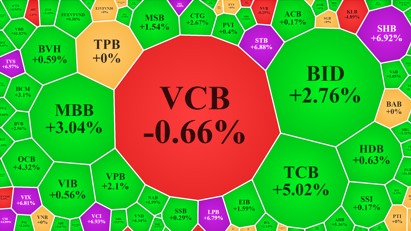 In a recent assessment, VinaCapital said that Vietnam's stock market and economy remain strong and show much potential for development despite the difficulties posed by issues around the world, from the downtrend in the global stock market to supply chain disruptions caused by China's pandemic restrictions.
Its GDP growth forecast is based on two key factors. First is an assumption that inflation-adjusted "real retail sales" will grow 5 per cent this year. And second is the fact that Vietnam has fully re-opened to foreign tourists, and they are now pouring back into the country, which is likely to add at least 2 percentage points to GDP growth this year.
Additionally, despite the "Zero COVID" policy in China creating difficulties for many businesses by disrupting supply chains, manufacturing accounts for over 20 per cent of Vietnam's GDP and grew by a healthy 8 per cent year-on-year in the first four months of 2022, although an increasing number of companies reported difficulties securing production inputs because of China's policy.
The policy is yet another reason for companies to shift manufacturing to Vietnam, which saw record high FDI inflows in the first four months of 2022.
VinaCapital also said that the sell-off in the VN-Index comes despite Vietnam's strong economy as well as the compelling fundamental strengths of its stock market. These strengths include a 11.4x forward P/E ratio versus 21 per cent consensus earnings growth expectations for stocks in the VNI this year, and a circa 30 per cent valuation discount versus Vietnam's regional peers. That said, there has been a fairly pronounced performance dispersion among the sectors of the stock market, which is generally attributable to fundamental factors, giving investors opportunities to take shelter in defensive sectors.
"Vietnam's economy is very strong, which helped propel 29 per cent year-on-year earnings growth in the first quarter and which we believe will help the market weather the current global stock market turbulence," said Mr. Michael Kokalari, Chief Economist at VinaCapital.