Visa renews partnership with HCMC transport department
Renewal expected to develop modern public transit systems.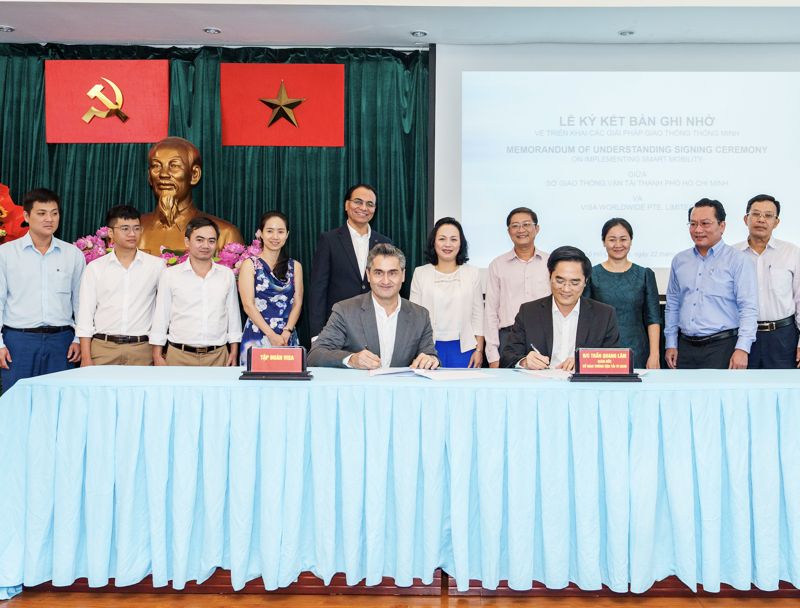 Visa announced on February 24 that it has renewed its MoU with the Ho Chi Minh City Department of Transport to transform urban mobility around the city.
The partnership is aimed at developing modern public transit systems featuring open-loop EMV tap-to-ride technology, which allows riders to tap payment cards, mobile wallets, or wearables to pay for fares, e-tickets, electric vehicle charging, tolls, and car parking fees.
Tap-to-ride is becoming increasingly popular, with Visa's network having processed over a billion such transactions on global transit systems in the last ten months. Its recent Future of Urban Mobility Survey found that 91 per cent of riders expect public transit systems to offer contactless payments, and nearly one-third cited contactless payments as a top feature that would entice them to use public transit.
According to Ms. Dung Dang, Visa Country Manager of Vietnam and Laos, the use of contactless payments will improve the travel experience of all commuters, making journeys more smart, seamless, and secure. Going cashless and paperless will also help reduce the city's environmental footprint. "We are excited to continue our cooperation with the Ho Chi Minh City Department of Transport to implement more acceptance points around the city, as this is an important part of the country's smart city agenda," said Ms. Dung.
The 2022 Visa Consumer Payment Attitudes Study found that Vietnam has seen an increase in contactless payment use since 2021. Eight-three per cent of consumers are aware of contactless transit cards, with use ranging from mobile apps to prepaid cards and debit cards. Four in five consumers said they use contactless cards for transit at least once a week, with Gen X, Boomers, and the affluent segment using contactless cards most often. Benefits of the digital innovation include a faster payment process compared with other methods and safety from not carrying cash.
Smart mobility is considered a key strategic objective in the transformation of Ho Chi Minh City. "We are very happy to be partnering with Visa to provide all citizens with more utilities through seamless and modern technological innovations," said Mr. Tran Quang Lam, Director of the Ho Chi Minh City Department of Transport.
He added that the city is adopting measures to develop a smart city, including the establishment of an interconnected online ticketing system for public transport. Under the plan, by 2025, all public buses will accept e-tickets. The use of cashless payments for public transit will be "normal" when Metro Line No. 1 begins services in 2024.
"We are happy to see Visa promoting and boosting digital transactions in transportation," Mr. Lam said. "The Department and Visa will further cooperate and develop optimized strategies to implement cutting-edge technology to reduce commute times and improve payment services."
The Department's first MoU with Visa saw contactless tap-to-ride payments rolled out on 50 buses in the city. Under the renewed MoU, the Department is aiming for a 20-fold increase, to 1,000 buses. The two parties will continue to engage in initiatives and public policies that will drive smarter mobility around the city.
In the initial years of their cooperation, they engaged in a fruitful sharing of experience. Last year, delegates from the Department visited Singapore to attend a knowledge-sharing tour organized by Visa. The trip demonstrated its efforts in supporting the future of smart mobility and opened up discussions on transit policy-making and open-loop systems.