IFC supporting Vietnam's transition to low-carbon economic growth
The International Finance Corporation and Vietnamese partners have signed two MoUs on accelerating innovation and financing the transition towards a green, sustainable and low-carbon economy.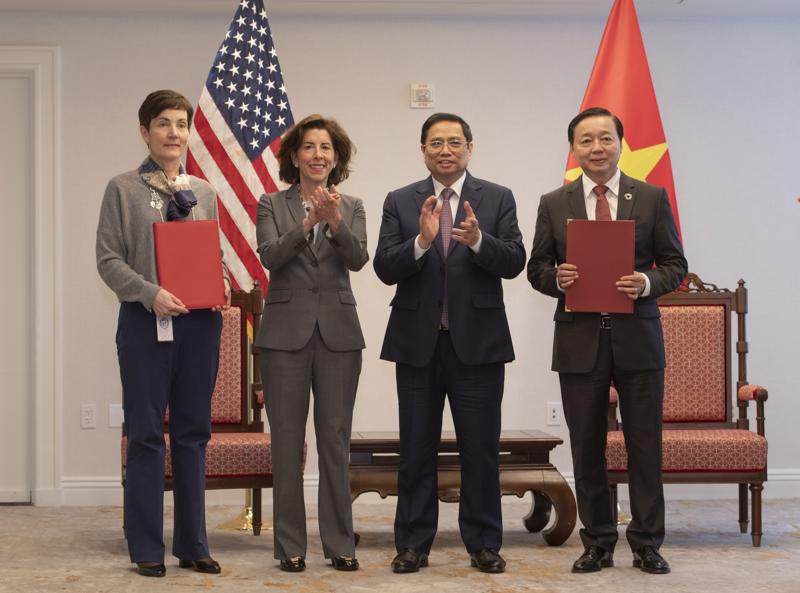 On May 11 in Washington D.C., in the presence of Prime Minister Pham Minh Chinh and US Secretary of Commerce Ms. Gina Raimondo, the Ministry of Natural Resources and Environment (MoNRE) and the State Bank of Vietnam (SBV) signed two MoUs with the International Finance Corporation (IFC), in which the IFC will support the Vietnamese Government in promoting sustainable financing and spurring private sector participation in the country's climate goals and sustainable growth.
MoNRE will partner with the IFC to create an environment for private sector climate investment. Building on its ongoing support to the Ministry to develop green project criteria, the IFC will also help develop and implement a policy and regulatory framework with an initial focus on key areas, including green procurement, green taxonomy, and waste management, especially plastic recycling and e-waste, among others.
"The strengthened cooperation between us will greatly contribute to the implementation of Vietnam's commitments at COP26 and other issues relating to environmental protection and sustainable development," Minister of Natural Resources and Environment Tran Hong Ha said at the signing ceremony.
Under the MoUs, the IFC will also help facilitate green financial flows and align Vietnam's banking sector with the country's climate goals over the next five years. In partnership with the Swiss State Secretariat for Economic Affairs (SECO), the IFC will also support the SBV in strengthening its sustainable finance framework in a range of areas while continuing to help commercial banks build their capacity in line with global sustainability and governance practices.
"The IFC's continued efforts to improve environmental, social, and governance practices at the country's financial institutions will be of great help in greening the banking sector, scaling up green finance to its full potential to support sustainable economic growth," said SBV Governor Nguyen Thi Hong.
"For Vietnam, which aims to become both a high-income and carbon-neutral economy in the next 30 years, private sector investment is doubly important," said Ms. Stephanie von Friedeburg, the IFC's Senior Vice President, Operations. "The IFC will continue to work closely with the Vietnamese Government to ensure that the right policies and incentives are in place to help unlock this finance."